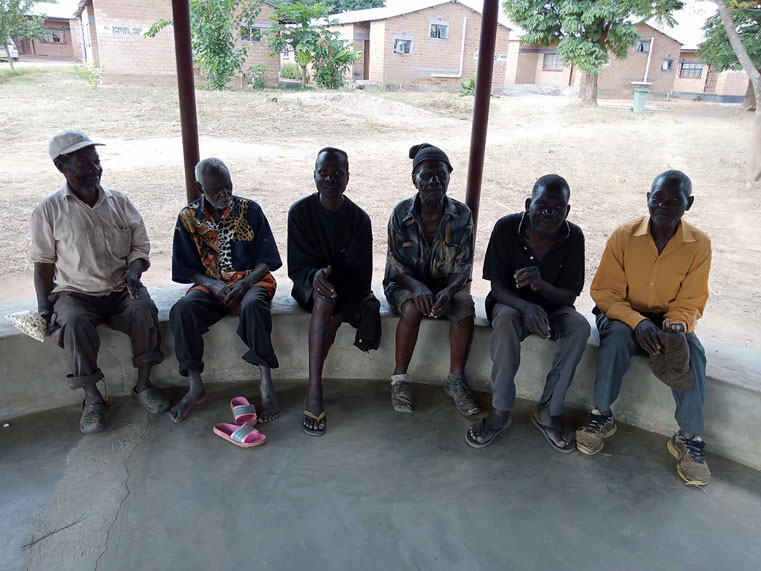 Mulele OPV is a home for elderly and disabled people in Mpanshya, a village in the rural Rufunsa District, two hour's drive east of Lusaka. It is one of only a few such homes in Zambia. Mulele OPV was founded in 2012 and is a Zambian registered NGO and public benefit organisation.
Located close to the centre of Mpanshya, Mulele Old People's Village offers a place where people from surrounding communities can meet and where the home's residents are involved in daily life as much as possible according to their abilities, i.e. through shelling groundnuts and peeling Mundambi fruits for the Bakery.
Mulele Old People's Village has 2 large houses with 5 rooms each and can offer accommodation for up to 20 people.
We provide shelter for our momentarily 7 residents and support 35 vulnerable old people in the villages of the district (Village Outreach).  We offer the old people confidence and peace of mind in their last chapter of life.
The inhabitants at Mulele receive moral and material support. Mulele was built in order to re-integrate these people. It shall be a place where the community can meet (in the bakery and little coffee shop and at our organic farm) and it is close to the centre of Mpanshya and St. Luke's Mission Hospital.
From the beginning we were a community based project. In cooperation with the Chieftainess Mpanshya and the headmen, people were involved in the process of building up the old peoples' village. The community takes responsibility for Mulele because each inhabitant of the Rufunsa area at one point may be a beneficiary of this project.
In time of HIV/Aids not only orphans are suffering but also aged people. In the Zambian society, as everywhere in the world, parents look after their children and pay their school fees. When their children grow up they in turn look after their parents in old age. Due to the HIV/Aids pandemic often parents have lost their bread winning children who are taken by the illness, thereby leaving them vulnerable with no support in old age.
On the other hand, the economic situation in rural areas like Mpanshya forces the young people to seek employment in bigger cities, leaving their parents behind with no care or support. More and more old aged are living on the fringe of society!
The government doesn't offer enough support to the old people. Therefore, these people sometimes starve to death or die because of insufficient care in their homes.
Our Residents are elderly and disabled people who are not able to live on their own anymore. They cannot repair their huts and roofs, they are not able anymore to fetch water and search for firewood or cook their own meals. They might still have their own fields, but not enough strength to cultivate them. So for those, Mulele offers a home with a secure roof over their heads, three meals per day and a little community to belong to.
Mulele does not aim for having as many residents as possible. In the Zambian culture the family is responsible for the old aged and vulnerable. This is why we rather support elderly people by reducing the burden to their sometimes very poor families by providing food and other daily necessities. As all old people in the world, these aged want to stay in their own homes as long as possible!
Only if there is no other way and the old person makes the decision on his/her own, then are we happy to take them to Mulele OPV as a resident.
With this program we support aged and disabled people who stay with their family in the village. Often, the grand- or even great-grandchildren who stay in the rural area with their grandparents struggle to support them, having barely enough food and clothes for themselves. Every month the beneficiaries receive food for 1 meal per day: Mealie meal & rice, soya pieces or any other proteins, cooking oil, salt and sugar and some soap and washing powder. 
Two to three times a year we drive out to the villages to distribute the parcels and check on our beneficiaries physically. But most of the time the beneficiaries come themselves or send neighbours or family members to collect the goods in Mulele.
Who are the ones who can profit from our Outreach Program? We do this program together with the Sisters of the convent here in Mpanshya. Sr. Martha, the social worker of the Hospital helps us decide, who are the most vulnerable elderly people in the villages as she knows the community very well.